I was wondering who is everyones favorite primarch is and if you can find and post a pic would be great.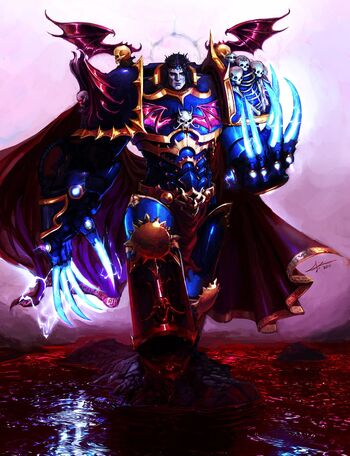 As you can see mine is Conrad Kurze or "Night Haunter" of the Nightlords. They have my favorite novels in the fluff and if they are truly doing chaos legions in 6th edition I will be trying my hardest to get my hands on them. The only loyalist I like is the Lion but he isn't my absolute favorite.
There is no official "Primarch" for the grey knights, but most canon eludes to the idea that the grey knights are a result of the emperor's own DNA. [img][/img] Also, you can't go wrong with a guy who has a cadre of super assassin guards. lol



Posts

: 217


Join date

: 2011-06-07



Leman Russ of course




Posts

: 711


Join date

: 2011-05-30


Location

: Biloxi



But what about the two missing primarchs? The unknown ones is ther anything on these guys? From what i understand one was already dead n the other the emperor killed cuz he was worshipping chaos? Am i in the ball park or is that hear-say?
Well from what I've heard from the First Heretic book of the horus heresy describes them as gone from imperial records and the marines that was theirs joined the Ultramarines which is why their numbers where the greatest during the horus heresy I would think.
I know the blood ravens are a first founding chapter and they revere thier unknown primarch...
I thought that lexicanum put them as not being first founding? . . . I can't remember really about that. I do know they revere a really strong librarian as much as a primarch.
If i remember correctly they were a first found chapter in the codex

---
Permissions in this forum:
You
cannot
reply to topics in this forum